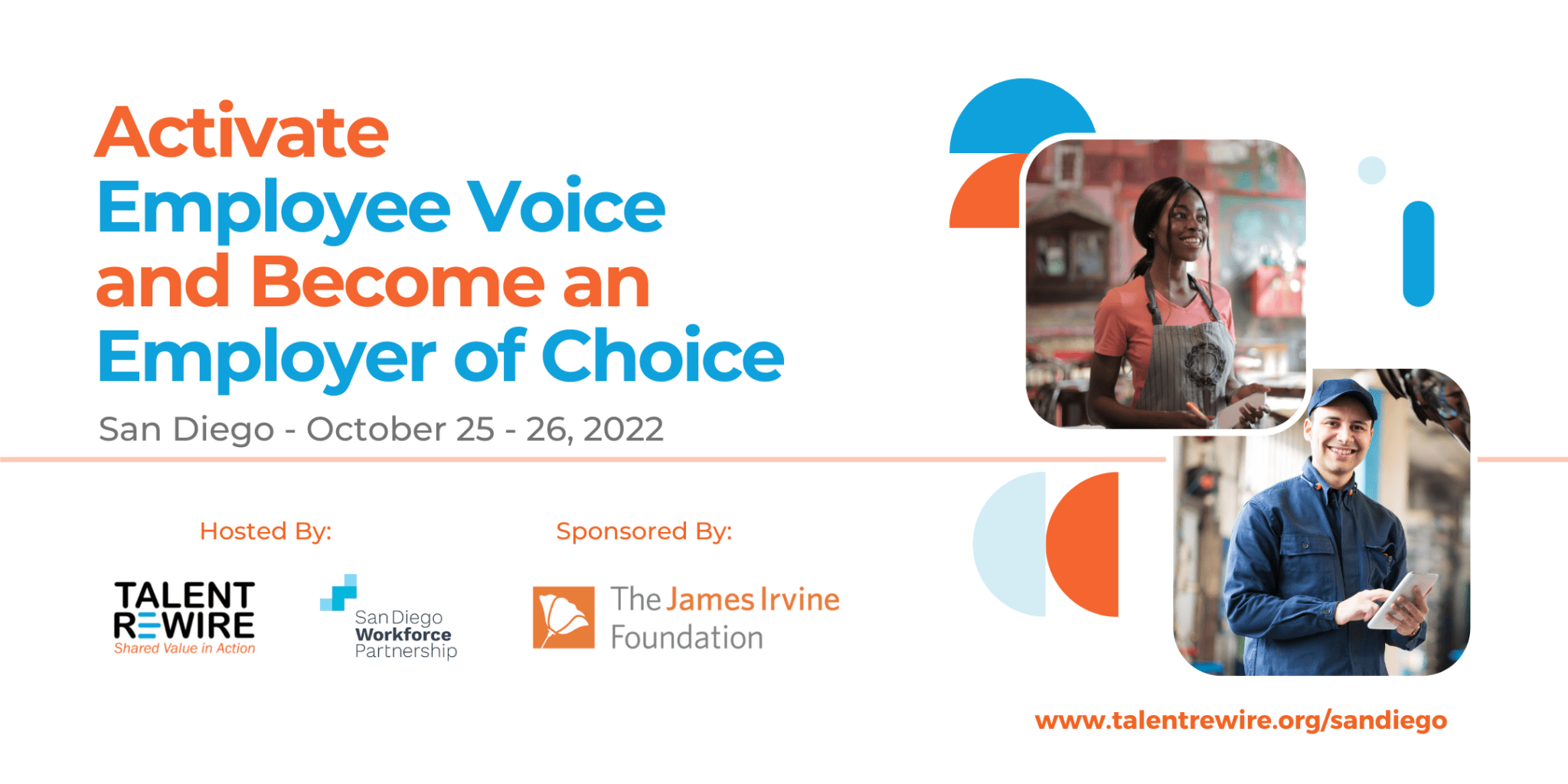 October 25 - October 26, 2022

San Diego, California
Learn more
abou the event
Leading employers know that elevating the voices and opinions of frontline employees is critical to business success, and can result in increased employee retention; lower turnover costs; better insights to improve the customer experience; greater employee satisfaction, mobility and loyalty; and better business profits. And know that creating an environment and culture where employees can safely provide input is hard work which is why we're excited to bring this workshop to companies like yours.
Talent Rewire is partnering with San Diego Workforce Partnership to host Activate Employee Voice to Become an Employer of Choice, a 2-day, in-person workshop on October 25 – 26, 2022 in San Diego for employers with operations in California that will explore why consistent engagement of the frontline is an essential part of being an employer of choice and how companies can start to build an environment and culture that foster trust and belonging.
We use cookies to offer you a better experience, analyze site traffic, and serve targeted advertisements. By continuing to use this website, you consent to the use of cookies in accordance with our Terms of Use and Privacy Policy. I ACCEPT
Privacy Overview
This website uses cookies to improve your experience while you navigate through the website. Out of these cookies, the cookies that are categorized as necessary are stored on your browser as they are essential for the working of basic functionalities of the website. We also use third-party cookies that help us analyze and understand how you use this website. These cookies will be stored in your browser only with your consent. You also have the option to opt-out of these cookies. But opting out of some of these cookies may have an effect on your browsing experience.
Necessary cookies are absolutely essential for the website to function properly. This category only includes cookies that ensures basic functionalities and security features of the website. These cookies do not store any personal information.
Any cookies that may not be particularly necessary for the website to function and is used specifically to collect user personal data via analytics, ads, other embedded contents are termed as non-necessary cookies. It is mandatory to procure user consent prior to running these cookies on your website.