Activate Employee Voice to Become an Employer of Choice
Your employees are talking. Are you listening? 
Today's business leaders know that while signing bonuses and increased pay can help get employees in the door, it won't necessarily keep them there. With the total cost of turnover reaching as high as 90 – 200% of an employee's annual salary, prioritizing and engaging employee voice isn't a nice to have, it's a must have and makes good business sense.
Leading employers know that elevating the voices and opinions of frontline employees is critical to business success, and can result in increased employee retention; lower turnover costs; better insights to improve the customer experience; greater employee satisfaction, mobility and loyalty; and better business profits. And know that creating an environment and culture where employees can safely provide input is hard work which is why we're excited to bring this workshop to companies like yours. 
Talent Rewire is partnering with San Diego Workforce Partnership to host Activate Employee Voice to Become an Employer of Choice, a 2-day, in-person workshop on October 25 – 26, 2022 in San Diego that will explore why consistent engagement of the frontline is an essential part of being an employer of choice and how companies can start to build an environment and culture that foster trust and belonging.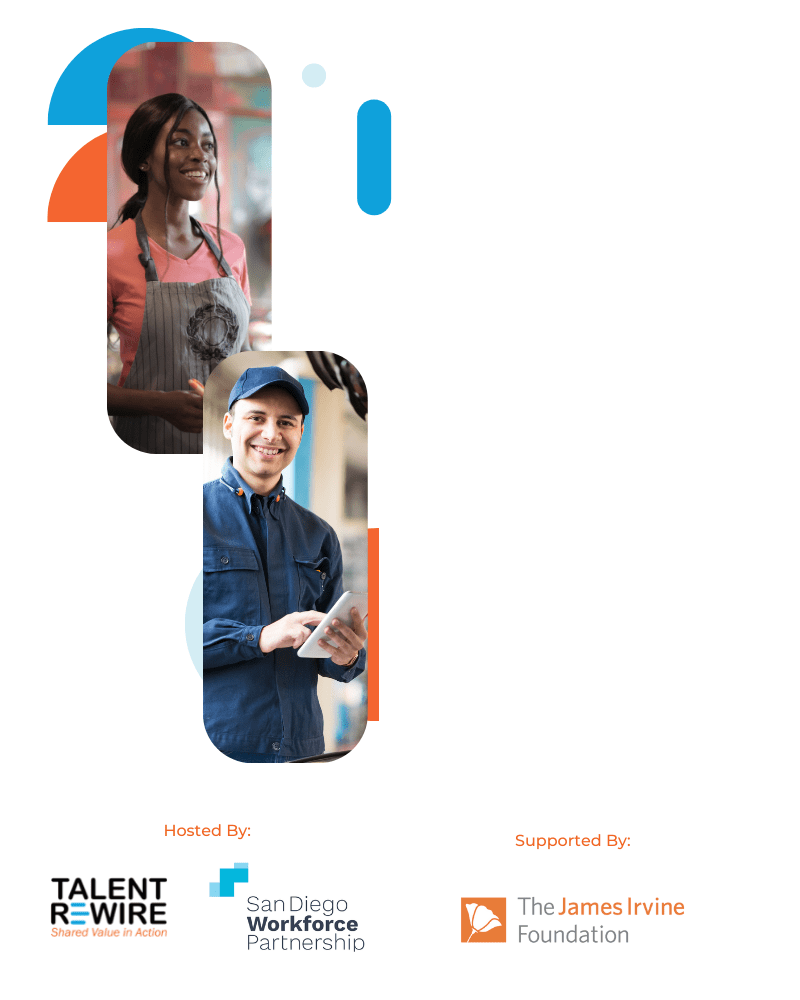 What to Expect
Through this interactive experience, attendees will:  
Understand why and how prioritizing employee voice can address pressing talent challenges like low retention 

Assess their workplace culture and attitudes toward worker voice, determine if enabling conditions exist, and identify the behaviors associated with them 

Generate an implementation plan to create enabling conditions that position employee voice as an asset

Multiply their network of peers, subject matter experts and resources to support ongoing DEIB, job quality, and employee voice efforts
Who Should Participate
We want to hear from:
Teams of 3-4 Human Resources, Operations and DEIB leaders from employers that have a frontline workforce

Employers that recognize the value of authentically and effectively engaging frontline employees in order to address business challenges like low retention

Employers that have already started to evaluate their DEIB practices and policies and/or employers who have started to think about employee engagement and culture in order to assess how they can equitably support the economic mobility of frontline employees

Leaders who are committed to do the individual work of understanding power dynamics and the role they can play in effecting change
Ready to sign up today?
Fill out this short interest form and a member of the Talent Rewire team will be in touch with you to explore your participation.
Ready to register?
If you attended an info session or had a conversation with the Talent Rewire team about this opportunity, you're ready to sign up for the workshop!
How much does it cost to participate in the workshop?
Employer participation in Activate Employee Voice to Become an Employer of Choice is underwritten by a grant from The James Irvine Foundation. Breakfast and lunch will be served on both days for all participants. Unfortunately, we are not able to cover any travel costs including public transit, taxi/rideshare, parking and lodging.
When and where is the workshop taking place? 
The in-person workshop will take place on October 25-26, 2022 from 8:30am – 4:00pm each day at The Guild Hotel in San Diego. In addition to the 2-day in-person workshop, we will host 2 two-hour virtual sessions which all participants are required to attend:

Virtual Session 1: October 13, 2022 | 9am – 11am PT, 12pm – 2pm ET
Virtual Session 2: November 15, 2022 | 9am – 11am PT, 12pm – 2pm ET
Do all participants have to attend every session? 
Yes! When an employer signs up for the workshop they are making a commitment to give their representatives the time and space to participate in each session fully. The total in-session time commitment (in-person and virtual) is about 20 hours.
Is it possible for a team of 1 to participate?
It is our experience that the employers who benefit most from Talent Rewire workshops attend in teams of, at minimum, 2 and more often 3 or 4.
What is the registration deadline?
The registration deadline is September 29, 2022.
Join a growing community of employers dedicated to
helping their frontline employees thrive.