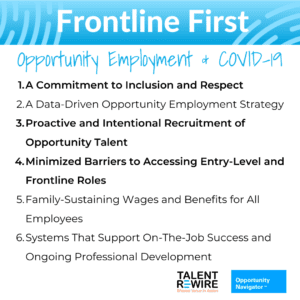 It seems like every time we look at the news we hear about another company having to furlough or lay off workers due to the decrease of economic activity as a result of the Coronavirus. Weekly unemployment numbers are staggering – nearly 10 million in the last two weeks. Yet amidst these stark stories and statistics there lay a few glimmers of hope.
As demand surges for essential items like groceries and other household necessities we're seeing many companies hire at a record pace. Retailers like Amazon, Target, and Walmart; grocery stores and food delivery companies like Albertsons, Papa John's, and Instacart; and pharmacies like CVS Health and Walgreens are collectively hiring hundreds of thousands employees. With the increase of hiring activity some rules of the old hiring playbook are being thrown out – at least temporarily.
To shorten the hiring process companies like Pepsi are having new hires start immediately, even before background checks and drug screenings are complete. There are reports of many other employers like Walmart also reducing the length of the interview process and offering virtual interviews, on-the-spot hiring, and verbal offers. Hiring practices like these reduce barriers to employment and are some of the practices of Opportunity Employment.
We know firsthand from working with employers like Greyston Bakery, which uses an open hiring model, that Opportunity Employment practices not only decrease barriers to employment and help fill open roles faster but can lead to increased business benefits like stronger retention and a decreased cost-per-hire. We'll be watching to see how many employers keep these practices in place after the crisis.
We're also seeing increased collaboration among companies and across industries in filling these roles. Under normal circumstances these companies may compete for the same talent, but with industries like hospitality grinding to a halt and online retail surging they are trying to work together to benefit and reduce the financial and mental burden on their frontline employees.
One example that stands out is Hilton. Hilton and the entire hospitality industry has been particularly hard hit by the crisis and has had to furlough or lay off hundreds of thousands of employees. However, Hilton has taken an extra step by creating the Workforce Resource Center to connect its furloughed employees with employers like Amazon and CVS Health who are quickly trying to fill open roles. Hilton has even partnered with a handful of these companies to provide expedited hiring for Hilton team members.
Another notable example is LinkedIn. LinkedIn is scaling its Recruiting for Good program – an internal program that allows LinkedIn recruiters to volunteer their time to help nonprofits expand their efforts. During the COVID-19 pandemic they've shifted this focus to source talent for healthcare organizations, hospitals and disaster relief nonprofits.
These efforts of collaboration and disruption to support frontline employees are exciting to see and puts into practice what we at Talent Rewire have long preached –we operate in an ecosystem of talent where all employers and employees can benefit rather than compete for talent.
An important point to note is that as companies hire hundreds of thousands of employees one Opportunity Employment practice (reduced barriers to hiring) should not supersede another (ensuring work environments are free from safety and health hazards).  Indeed, it's vitally important that the thousands of jobs being created right now are ones where employees will be safe and remain healthy. Companies that have done a good job at this include Albertsons and other grocery stores that are putting in place protective barriers at their check-out lanes and adding additional protective measures to keep their employees safe. We strongly encourage other employers hiring right now to consider all of the potential ways to ensure the safety of their employees and the greater community.
As we continue to grapple with and respond to the ripple effects from COVID-19 and begin to dive into the pending stimulus and understand what it means for employers, we're curious to know how you and your company are dealing with this unfolding situation and what you need in terms of support and resources. If you have a moment we'd appreciate you taking this brief, three question survey to help us better assist you and our employer community during this crisis.
Talent Rewire supports the adoption of Opportunity Employment, a set of principles and associated talent practices that prioritize opportunity and mobility for entry-level and frontline workers while generating business value for the company, for companies across industries and sizes. See how you're doing by taking the Opportunity Navigator.